Fubaby Fast eBay Listings provides additional shortcodes and widgets to present eBay auctions and items in your pages and posts.
Display single or listings of eBay items
Display eBay RSS feeds
Present in multiple columns and/or rows
Slideshow presentation, auto or manual progression.
Dynamic widget to show eBay items relevant to current page
Search for items from any given seller
Search by keywords
Filter results by category or price range
Tailor number of results to display
Items are shown with thumbnail, size customisable
Full items details can be shown: price, end date, BIN etc
In built caching to prevent unnecessary page load delays
A key feature of Fubaby Fast eBay Listings is the ability to utilise the eBay Partner Network to earn commission on click throughs from the listings to eBay. A great way to monetise your site, whether you present your own items on eBay or others. This free version of this plugin will redirect 50% of clicks to earn the developers commission, supporting and maintaining this plugin.
Demo:

Fast Yamaha Bikes!
Installation
You can download this plugin from the WordPress.org site here.
Upload the plugin files to the /wp-content/plugins/fastebaylistings directory, or install the plugin through the WordPress plugins screen directly.
Activate the plugin through the 'Plugins' screen in WordPress
Use the 'Settings->Fast eBay Listings' screen to configure the plugin
Shortcode Usage
The shortcodes you use in your posts or pages are:
fu_ebay_search – Display items from a custom search
fu_ebay_rss – Display items from an RSS feed
Widget Usage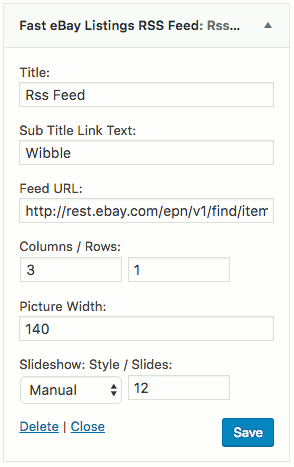 Fast eBay Listings supplies a number of widgets to display eBay items, perfect for promoting items in your site margins and footer. These widgets can display an eBay RSS feed, your own search results or a dynamic search based on the current page or post.
All widgets can be customised to present items in a column, row or grid of any size, with pictures of any size and with the option of a manual or automated slideshow.