Fubaby Fast eBay Listings provides additional blocks, shortcodes and widgets to let you integrate WordPress with eBay
Quickly set up searches of eBay items to display on your WordPress blog, to automatically present up-to-date items to your visitors
Drive traffic to your eBay store or just earn commission from the eBay Partner Network
---
Simple to Use
Intuitive UI in Block or Classic editors
No manual coding, RSS setup, typing cryptic shortcodes or hunting down eBay category numbers!
Flexible & Versatile
Customise presentation of eBay items, choose layout, colour scheme, image sizes etc.
Display your store items or any items on eBay
Earn Money
Drive customers to your eBay store
Sign up to the eBay Partner Network and earn commission on click-throughs
Robust & Supported
Fast eBay Listings has been actively maintained since 2016
Always abreast of changes to eBay APIs and WordPress updates
Free to Use!
Just download and go!
An optionally premium subscription provides more control over EPN commission
Fast & Efficient
Optimised code, clever caching and deferred loading will ensure your website loads fast
Not hidden by browser AdBlockers
---
Getting Started Video
This quick-start video shows you how to get this WordPress eBay plugin installed and set up to display products from your eBay store or any seller for your affiliate site.
Demo
Detailed Feature List
Display single items or a grid of search results from eBay
Show feedback ratings and comments from your eBay seller account
Slideshow presentation or 'load more' buttons for continuous scrolling
Simple to use Blocks to arrange eBay items in the WordPress Block Editor
Easy UI to add eBay search shortcodes in Classic Editor
Dynamic widget to show eBay items relevant to the current page
Show items from a given seller, any seller, or items specific to a post's author
Filter results by category, price range, seller type, buying options etc.
Handy eBay category chooser tool – no manual lookup of category ID numbers by hand!
Migrate your existing RSS Ground or Auction Request eBay feeds and present them on your website
Items are shown with thumbnail size and aspect ratio of your choice
Full item details can be shown: price, end date, BIN, condition, location, description etc
Deferred loading and inbuilt caching of listing for faster page loads
Geotarget eBay results to the local eBay site of your visitors
Earn commission on click-throughs via WordPress eBay Partner Network integration and track with your own reference IDs
Highlighting priority listings that earn high rates of commission
SmartLinks features to make other eBay links on your site promotable affiliate links
---
Use Cases
Present Store Inventory on your Website
Present and showcase products from your eBay shop on your website or blog
Drive traffic to buy items you sell on eBay and avoid the duplicate effort of managing your inventory on your own eCommerce site
Affiliate Marketing for a Passive Income
Drive your website visitors to purchase related products on eBay in your niche
Earn commission on eBay sales to monetise your site and create a passive income
WordPress eBay Partner Network Integration
Fubaby Fast eBay Listings provides WordPress eBay Partner Network (EPN) integration so you can earn commission on click-throughs from the listings this eBay WordPress Plugin displays on the eBay site. This is a great way to monetise your site, whether you present your own items on eBay or from other sellers.
This free WordPress eBay Partner Network plugin will redirect 50% of clicks to earn the developers' commission to support and maintain this plugin. A premium subscription option is available for those who wish to earn commission from all eBay click-throughs.
---
Installation
The easiest way to install this WordPress eBay plugin is to navigate to the 'Plugins | Add New' page within the Admin Dashboard of your WordPress site. Then simply search for 'Fast eBay Listings' and install/activate the plugin.
The Fast eBay Listing page on WordPress.org has more installation information and manual download options.
Don't forget to 'enable auto-updates' to ensure you get bug fixes and new features automatically deployed.
Use the 'Settings | Fast eBay Listings' screen to configure the plugin
Support
The Fast eBay Listings eBay affiliate plugin has been maintained and supported since 2016 and has been kept up to date with the latest eBay API changes. You will be supported for many more years.
You can get support, help, or assistance in using Fast eBay Listings in many ways:
I'll endeavour to follow up as soon as possible and resolve any issues you're having. Do also get in touch if you have any feature requests.
Usage – Integrate WordPress with eBay
Block Editor
Fast eBay Listings provides Blocks for the WordPress Gutenberg Block Editor which makes it a breeze to add eBay listings to your posts or pages.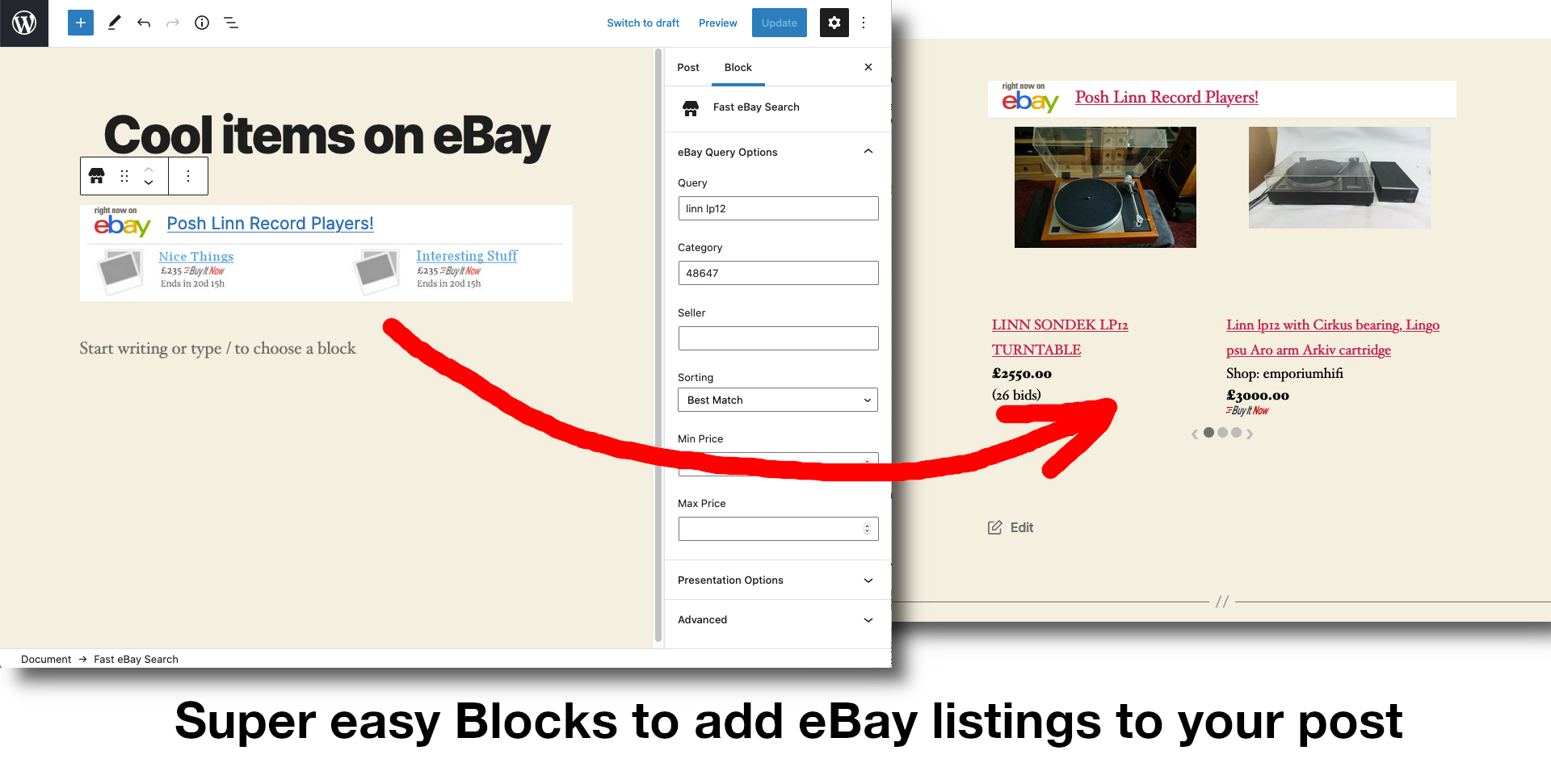 Classic Editor
For those who prefer the WordPress Classic Editor, Fast eBay Listings provides handy visual editors to add and edit shortcodes in your posts and pages. These are accessible from the WordPress editor toolbar and will present a simple pop-up to enter your eBay search criteria.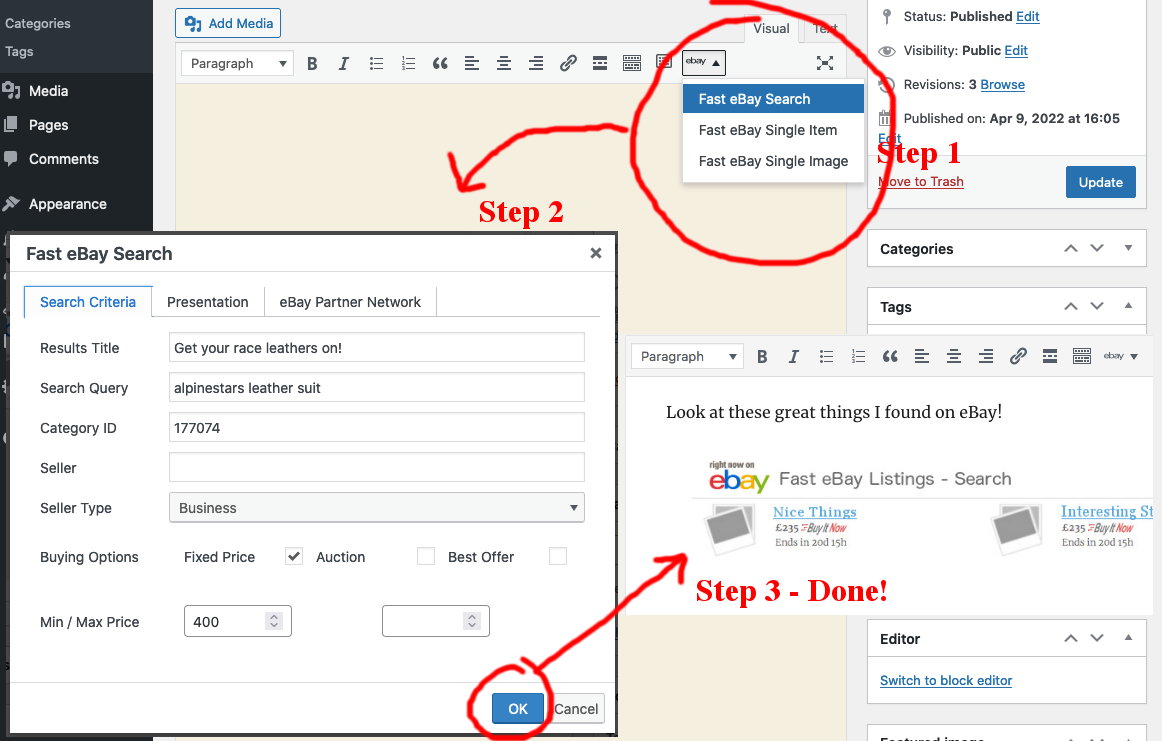 'eBay Search' – Display items from a custom search
Use intuitive visual editors within the WordPress Block or Classic Editors to present eBay items meeting your search criteria in your post or page. You can filter your search by many criteria like keywords, categories, seller price etc.
If options are omitted, defaults from the plugin setting will be used instead. eBay provides images in the sizes 225px and 1000px. To avoid in-browser scaling choose one of these, otherwise, Fast eBay Listings will utilise the next largest to the stipulated 'Picture Width' argument.
Unlike other WordPress eBay plugins, Fast eBay Listings comes with a handy popup eBay category chooser so you do not need to manually hunt down the ID number for the category you want to use: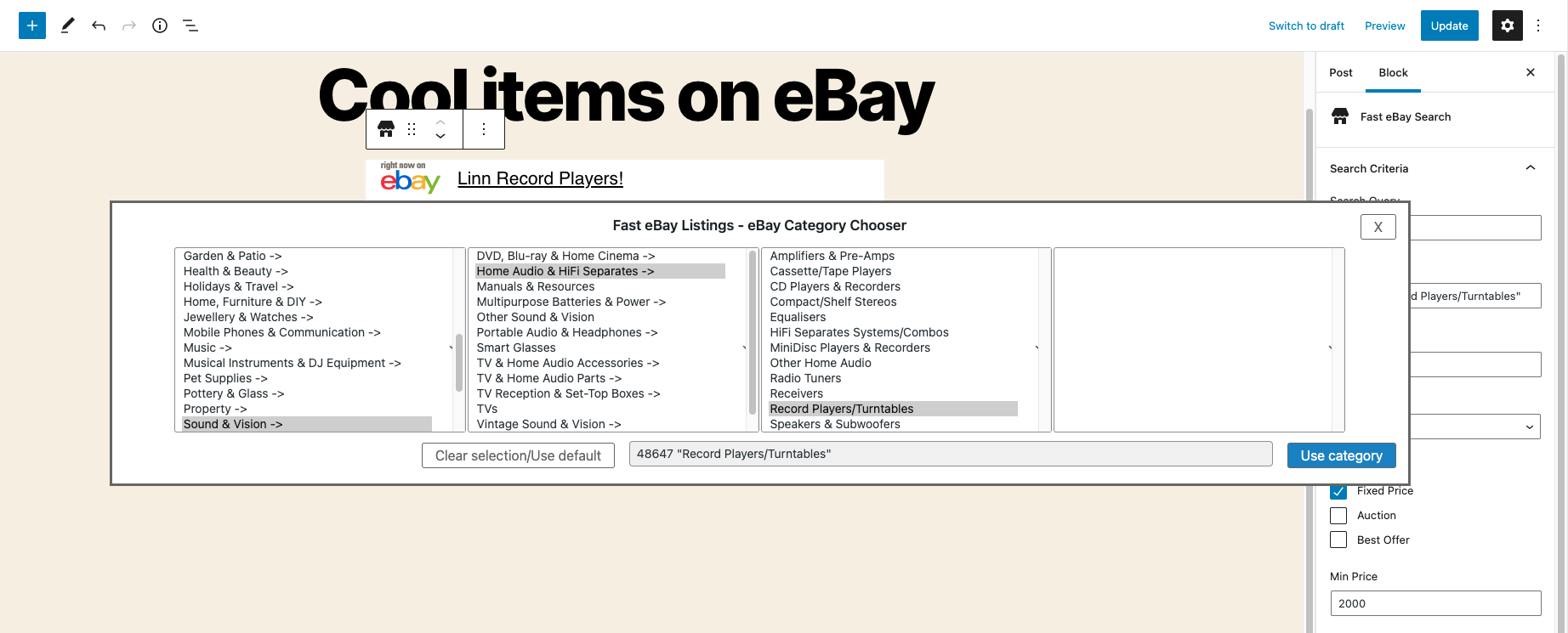 Some examples of Fast eBay Listings in action:
Static grid example:
Automatic slideshow example:
Load More button for continuous scrolling example:
'eBay RSS Feed' – Display results from an RSS feed
eBay deprecated their RSS feed functionality in 2019, however, some users have migrated to services like RSS Ground and Auction Request that can generate an RSS feed of eBay results. Fast eBay Listings provides support to present such RSS feeds in a similar manner to the above 'eBay Search' features.
It is still recommended to use the above 'eBay Search' feature as it is faster, more flexible and does not require additional effort to set up an RSS Feed on a 3rd party service. Nonetheless, Fast eBay Listings offers RSS Feed support to provide a simple migration route for existing feeds you may have set up.
'eBay Item' – Display a single item
You can display details of a single eBay item or image. Use intuitive visual editors within the WordPress Block or Classic Editors to present a single eBay item in your post or page. Just enter the item's ID.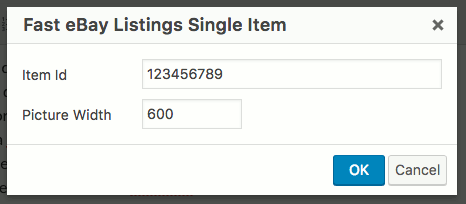 Example:
Loading…
Single image example:
Loading...
'eBay Feedback' – Display Seller/Store Feedback Ratings
Display feedback and ratings for your eBay seller/store account on your blog or website. A great way to show your reputation on your company website and provide a link directly to your eBay shop.
Simply enter your eBay seller account name and choose the number of feedback entries to display, or enter zero if you just want to display the rating summaries.
Example #1: Full eBay Store details:
Loading…
Example #2: Slideshow of eBay feedback comments:
Loading…
Widget Usage
Fast eBay Listings supplies several widgets to display eBay items, perfect for promoting items in your site margins and footer. These widgets can display your search query or a dynamic search based on the current page or post.
All widgets can be customised to present items in a grid of any size, with pictures of any size and with the option of a manual or automated slideshow.
Fixed Search Widget
This widget presents an eBay search similar to the above Block and Classic Editor eBay Search shortcodes, the widget form contains fields with the same filters and presentation options to display results from fixed search criteria.
Dynamic Search Widget
This widget presents an eBay search similar to the Fixed Search widget, however, the search query is dynamically driven by the current page displayed. This is ideal for displaying items on eBay to visitors related to the content of the current page in WordPress they are viewing.
On pages and posts, the title is used as the search query. When browsing categories or tags, the category or tag is used as the eBay query. As a fallback, a default query can be specified for other pages.
eBay WordPress Plugin In-Depth Instructions
Below are pages with more detailed instructions on this WordPress eBay Listing plugin functionality.
Reviews
Excellent! Increased My Site Revenue

I've been using a competing plugin for a while now but results kept deteriorating over time so I decided to try another plugin. There aren't many good plugins for EPN affiliates anymore but Fast eBay Listings looked like it would do what I needed so I tried it. I'm using the paid version since the price is very reasonable and it can be used on three sites. Hopefully a bulk site package will be available soon for those of us who have a number of sites.

This eBay affiliate plugin is simple to implement, easily customizable, and looks good on page. But, the main benefit that I noticed almost immediately was a bump in average daily revenue over the former plugin. Fast eBay Listings just seems to engage users better than other plugins which results in better click through rates.

Arthur is very accessible too. If you have suggestions he's willing to consider them and, if doable, to implement them quickly. Can't ask for much more than that.

Overall, I think this is the best EPN affiliate plugin out there right now and will most likely get better over time.

jaytodd123

Just what I was looking for!

This was very easy to use and just what I was looking for, Support has been great and Arthur even added new elements to this plugin to fit my needs better.

vfindz

Very valuable plugin

It simplifies adding eBay listings to my sites. It works. I like the flexibility to choose the look and feel of the display. I see from the stats that people are clicking on the listings and buying. Highly recommend if you are an eBay partner.

viking99

So easy, works well!

Recommended by a friend, and wow, it's easy. Just enter search term, and it displays results. This really should be at the top of search results.

gobsmackerau

Exactly what I needed! No Nonsense!

I tried several "popular" plugins only to find the usual bloatware, signups, premium restrictions, and complicated RSS nonsense. Then I tried Fast EBay Listings. AND IT WORKS! Like… instantly! It took like 10 seconds, and I had exactly what I needed! Arthur – thank you for your great work, and keep it up!!

ozzymuppet

Wonderful way of adding your own and relevant ebay listings

I spent a long time and a bit of money on various eBay WordPress plugins. But none do the job as well as this. The author is incredibly supportive and made some changes on request so a 50/50 split for this functionality is fine with me. This is genuine 5 stars all day long!

nofski

Read more reviews of Fast eBay Listings on the WordPress.org site