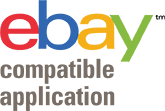 Fubaby Fast eBay Listings provides additional shortcodes and widgets to let you integrate WordPress with eBay. It presents eBay feeds, auctions and items on your WordPress pages and posts.
Display single or listings of eBay items
Present in multiple columns and/or rows
Slideshow presentation, auto or manual progression
Gutenberg Block Editor widgets to simply add eBay listings to your post
Super easy to use UI to edit shortcode parameters without typing in code
Dynamic widget to show eBay items relevant to the current page
Search for items from any given seller(s)
Search by keywords
Filter results by category or price range
Tailor number of results to display
Items are shown with thumbnail, size customisable
Full items details can be shown: price, end date, BIN etc
Deferred loading and inbuilt caching of listing for faster page loads
eBay Partner Network WordPress Integration
A key feature of Fubaby Fast eBay Listings is the ability to utilise the eBay Partner Network to earn commission on click-throughs from the listings this WordPress eBay Plugin creates to the eBay site. This is a great way to monetise your site, whether you present your own items on eBay or from other sellers. This free WordPress eBay Partner Network plugin will redirect 50% of clicks to earn the developers commission, supporting and maintaining this plugin.
Demo
Installation
You can download this plugin from the WordPress.org site here.
Upload the plugin files to the /wp-content/plugins/fastebaylistings directory, or install the plugin through the WordPress plugins screen directly.
Activate the plugin through the 'Plugins' screen in WordPress
Use the 'Settings->Fast eBay Listings' screen to configure the plugin
Usage
Block Editor
Fast eBay Listings provides new Blocks for the WordPress Gutenberg block editor which make it a breeze to add eBay listings to your posts or pages.
Classic Editor
For those that prefer the WordPress classic editor, Fast eBay Listings provides handy visual editors to add and edit shortcodes in your posts or pages.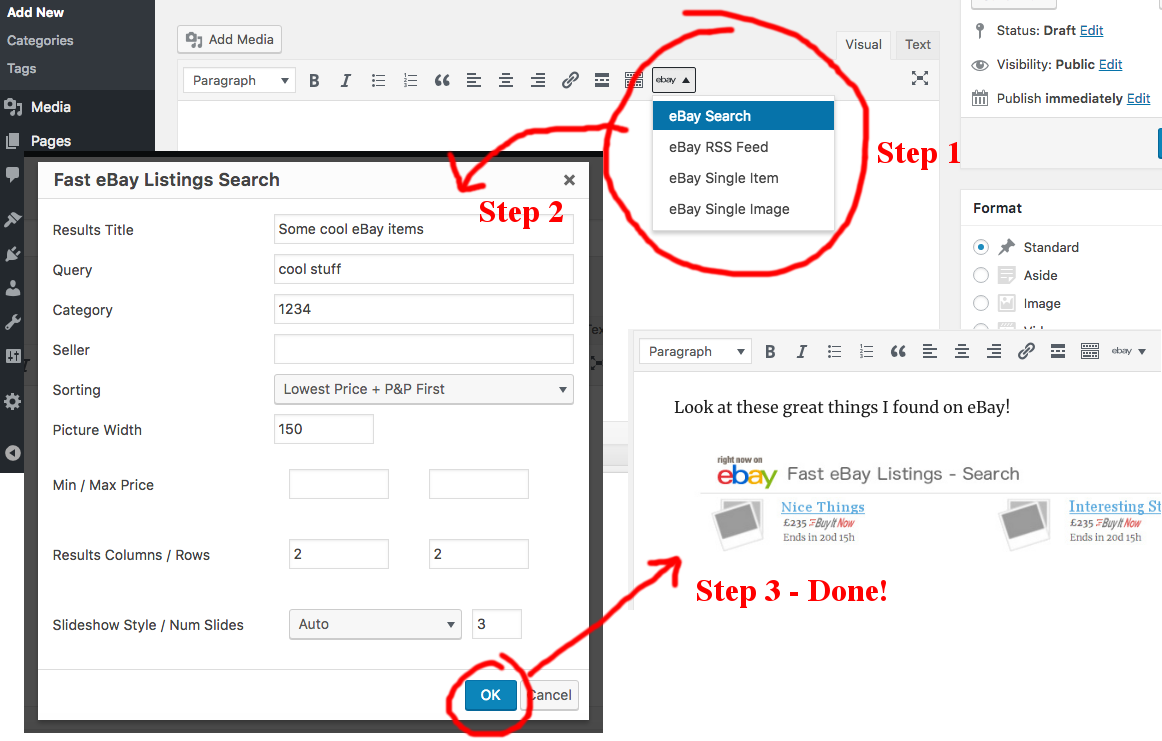 These are accessible from the WordPress visual editor toolbar and will present a simple pop-up to enter your eBay search criteria.


'eBay Search' – Display items from a custom search
Use the following pop-up within the WordPress visual editor to create and edit your shortcode to search eBay for items and present them in your post or page. You can filter your search by a number of criteria like keywords, categories, seller price etc.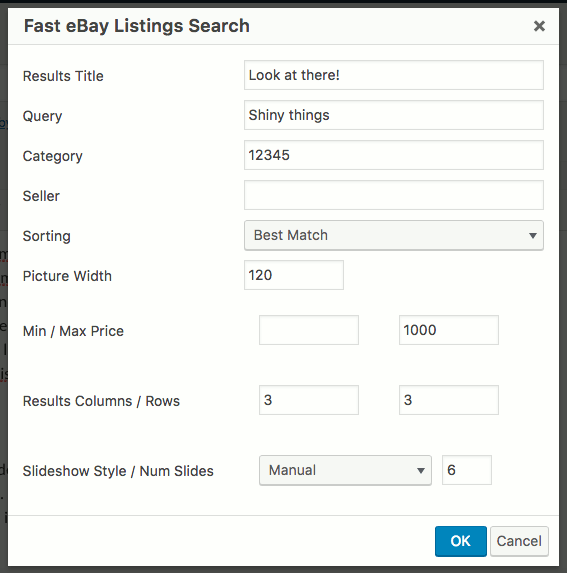 Shortcode Arguments:
query – keywords to search for on eBay
category – comma-separated list of eBay category id's (max of three) to filter results by
seller – filter results to given seller
minprice – filter results to those above given price
maxprice – filter results to those below given price
sort – search results are sorted by this (default Ending Soonest)
columns – display results across the given number of columns
rows – display results across the given number of rows
picwidth – desired width dimension of thumbnails
slideshow – display as a slideshow: Manual, Auto or Default (from settings)
slides – number of slides to cycle between
If arguments are omitted, defaults from plugin setting will be used instead. eBay provides images in the sizes 225px and 1000px. To avoid in-browser scaling choose one of these, otherwise, Fast eBay Listings will utilise the next largest to the stipulated 'Picture Width' argument.
Some examples:
Demo example, static grid
Demo example, automatic slideshow
'eBay Item' – Display a single item
Use the following pop-up within the WordPress visual editor to create and edit your shortcodes to display a single eBay item or image within your post or page.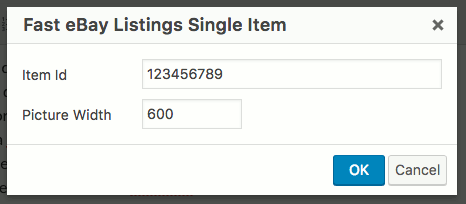 Single Item
Presents details of a single eBay item listing.
Arguments:
item – the eBay item number to display
picwidth – desired width dimension of thumbnails
Example:
Single Image
Presents just the image from a single eBay item listing.
Same arguments as above

Widget Usage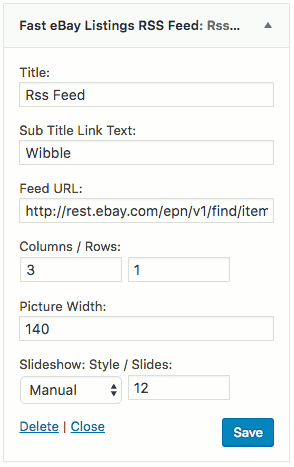 Fast eBay Listings supplies a number of widgets to display eBay items, perfect for promoting items in your site margins and footer. These widgets can display your own search query or a dynamic search based on the current page or post.
All widgets can be customised to present items in a column, row or grid of any size, with pictures of any size and with the option of a manual or automated slideshow.
Fixed Search Widget
This widget presents an eBay search similar to the ebay_search shortcode in a WordPress widget and will show the results from a fixed eBay search query.
The widget form contains fields matching the same as ebay_search, so you can filter in the same manner, choose to display in a grid with as many columns or rows as you like and with the same slideshow options.
Dynamic Search Widget

This widget presents an eBay search similar to the Fixed Search widget, however, the search query is dynamically driven by the current page displayed. On pages and posts, the title is used as the search query. When browsing categories or tags, the category or tag is used as the eBay query. As a fallback, a default query can be specified for other pages.
Use this widget to display eBay items related to page visitors are reading. You can of course further filter this by eBay category, seller, price etc.
In-Depth Instructions
Below are pages with more detailed instructions on key plugin functionality.