Recently some new features were added to Fast eBay Listings to give you more control over how items on eBay are displayed on your site. Now you can customise the colour scheme of items and fine-tune exactly what fields you want to display. Here I will highlight some of these features and how you can get your site looking just right.
Customise eBay Item Theme
Fast eBay Listings provides three colour scheme theme options to tailor how eBay results are shown: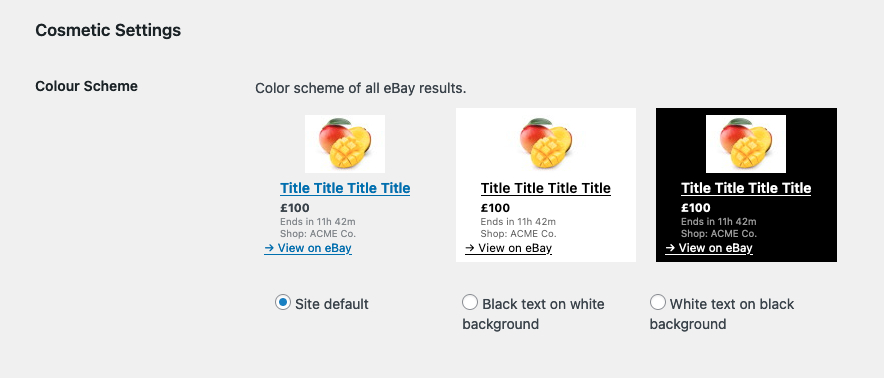 'Site default' – will use colours as defined within your WordPress theme. The default choice to match any specific header or text colours used across your site.
'Black text on white background' – This will force all eBay items to be presented on a white background will black text. Ideal to make listings stand out from any custom backgrounds used in your WordPress theme.
'White text on black background' – as above, but reversed. The ideal choice for sites with a black background.
Customise eBay Item Layout and Fields
Within the Fast eBay Listings settings, you can customise the layout of how eBay items are displayed and what fields you wish to be shown. These settings can be chosen independently for search/RSS in page/post results, search results in widgets and single eBay items. Thus you can show more detail for items displayed in an article but just show brief details in widgets.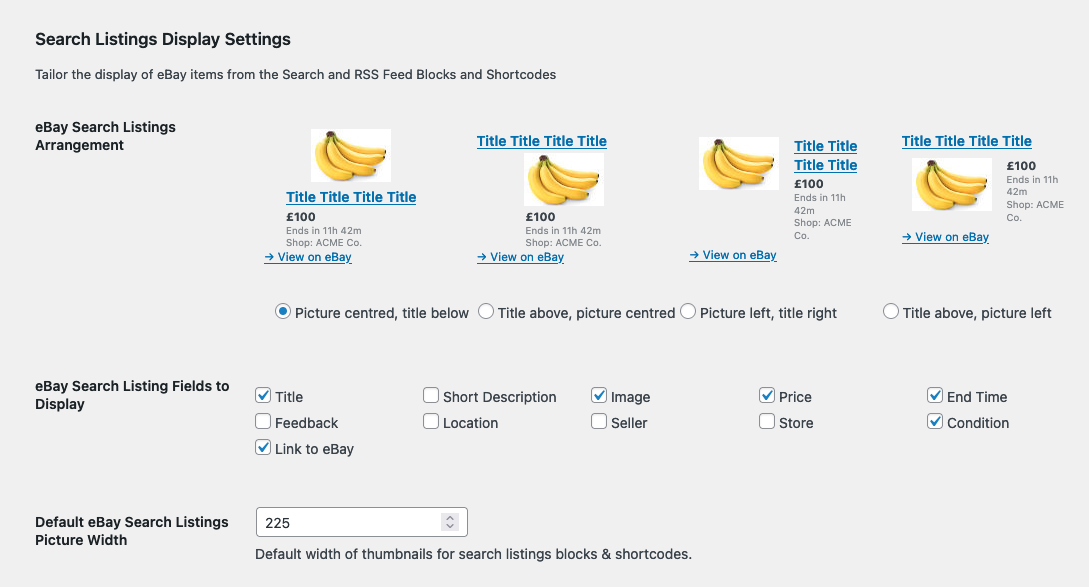 The first option lets you choose the item layout arrangement. Whether item titles are above or below images or whether text is beside or below images.
Next, you can tick which fields you wish to display. For example, if you are only showing items you sell in your store and they are all brand new items, you might wish to uncheck the display of item condition and seller/store name.
Lastly, you can customise the default size of images. This is a default size for use across your site, but you can override this in specific Blocks, shortcodes or Widgets if desired. Note: eBay provides images at 225px and 1000px by default, so choosing any other size will pull one of these two image sizes and scale in the browser.
Require Other Display Customisation?
If you require further customisation of eBay results for your website, do get in touch with your feature request. It maybe something I can offer in a future version of the Fast eBay Listings WordPress plugin.