Displaying your eBay feedback reviews on your WordPress website is a great way to instil trust with visitors. Your positive reviews will reassure visitors that your business is reputable and help secure sales. But how do you present your up-to-date eBay feedback on your website, you ask – look no further than Fast eBay Listing, the best eBay reviews plugin for WordPress, without a doubt.

Simply install the Fast eBay Listings WordPress plugin and you will have an eBay Feedback Shortcode and Block available to add to your pages in Classic or Block editors. Just enter your eBay username and tailor what details you wish to display and how you'd like to present them.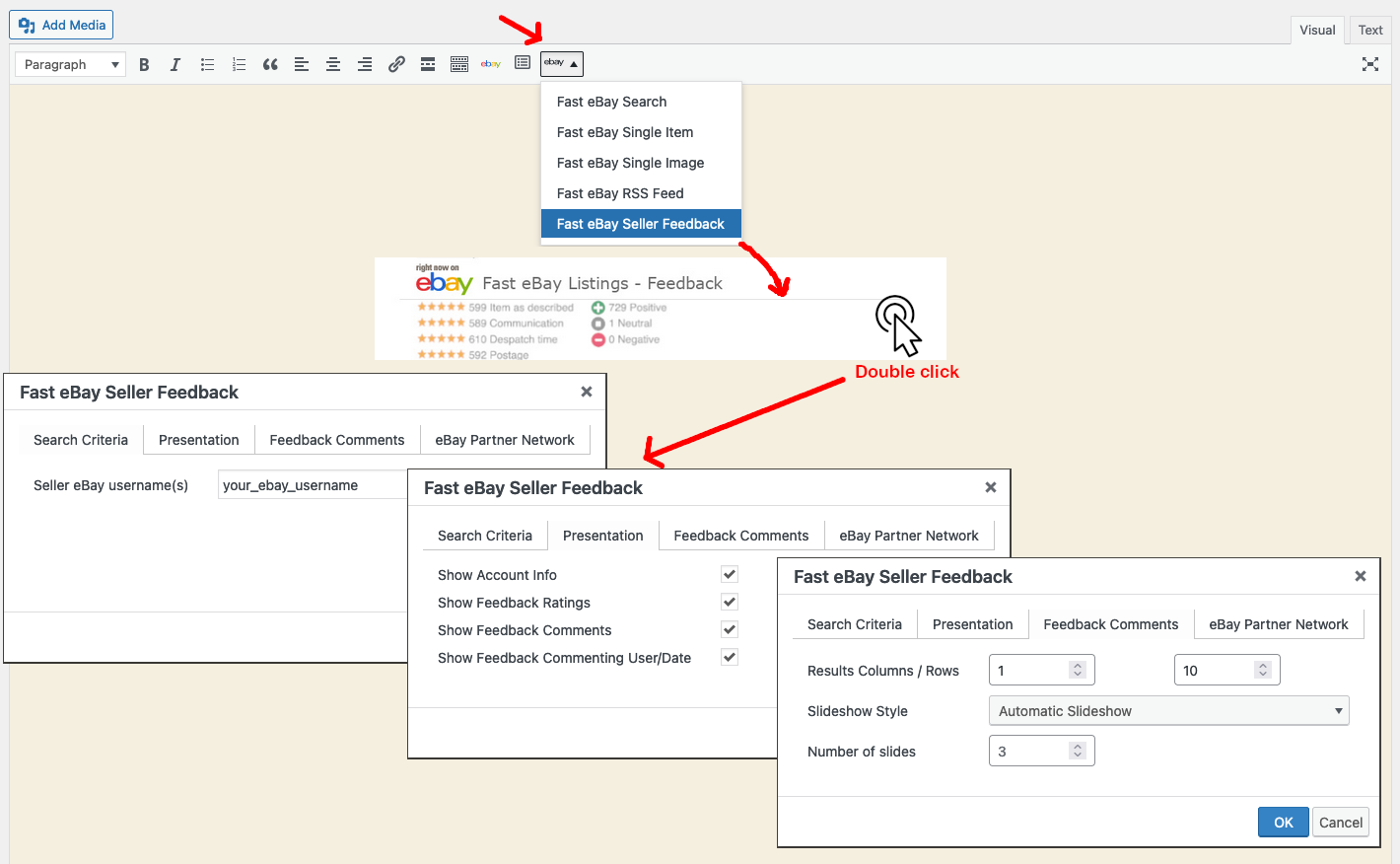 Customise Feedback Info to Display
The Fast eBay Listings Feedback feature offers lots of flexibility on the details you'd like to show. On the Presentation tab, toggle the following:
Show Account Info – Present account name, total feedback, member since date and link to eBay store page
Show Feedback Ratings – Present star ratings on feedback details and breakdown of positive, neutral and negative feedback
Show Feedback Comments – Present comments your buyers left you on eBay, with a title and link to items sold (links only shown on recent items only)
Show Feedback Commenting User/Date – Show the anonymised username of those leaving your feedback and the date the comment was left.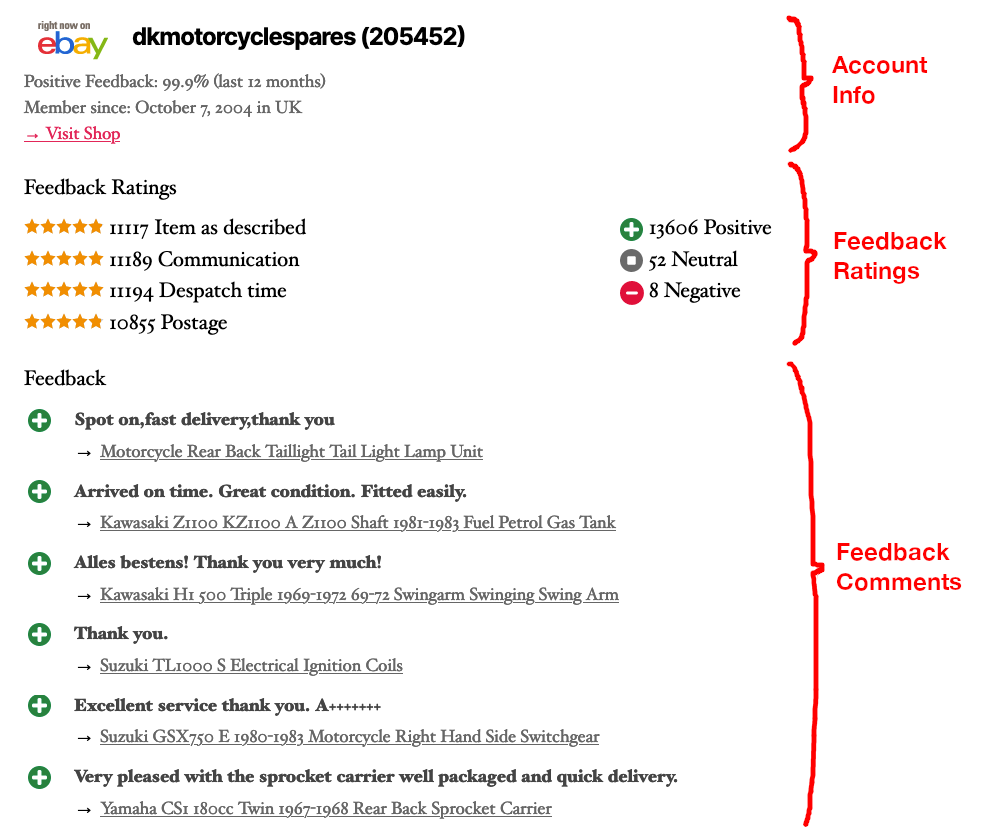 Customise Feedback Comment Presentation
You can present your feedback comments in many different ways with the Fast eBay Listings Feedback feature. Perhaps you like a single-column list, or maybe you'd like a horizontal slideshow of comments, or another layout entirely. Fast eBay Listings allows you to present your feedback comments as a grid of your choosing.
Below are some examples:
Example #1
All details are shown, and feedback is presented as 1 column and 5 rows with no slideshow:
Loading...
Example #2
Just store and feedback star ratings shown:
Loading...
Example #3
Just feedback comments show, presented as 1 row of 4 columns with an automatic slideshow of 5 slides:
Loading...
Example #4
Feedback comments presented in a grid, 2 rows x 2 columns, with a 'load more' button to present more slides/pages :
Loading...
eBay Reviews Widget Key Info
As you can see Fast eBay Listings is a highly recommended WordPress plugins for eBay reviews, that is very simple to use. Below is some key information to help you get the most out of it and avoid common issues.
Enter your eBay username, which may be different from your eBay store name.
The eBay API can only provide a maximum of 200 feedback comments. There is no support to display more comments than this.
Feedback info may be cached for up to 24 hours to ensure your site loads as fast as possible, and adhere to eBay's API recommendations. As such, new feedback may not show on your site immediately.
If you've entered an eBay Partner Network campaign ID in the Fast eBay Listings settings, then links to your eBay store or previously sold items will be attributable links that can earn you a commission.
The Best eBay Reviews Plugin for WordPress
As you can see, Fast eBay Listings is the eBay reviews plugin for WordPress, and an ideal solution to display your eBay feedback on your website in a multitude of different manners to best suit your page design.
Don't forget, that Fast eBay Listings can also be used to display your eBay items on your WordPress site and help you promote your store inventory. Thus covering all your eBay needs with a single plugin.